News
2021 Calendar
- only 2 copies left!
Please order by sending an email to calendars@lincolnrspb.org.uk giving your name, address and telephone number and indicating how many copies you require. The calendars cost £6.50 each and you will be sent details about how to pay and where to collect them, although we can deliver to most areas within the Lincoln City boundary and volunteers have kindly offered to deliver to the following villages:

Bassingham Birchwood, Boothby Graffoe, Bracebridge Heath, Branston, Brant Broughton, Carlton le Moorland, Cherry Willingham, Coleby, Doddington Park, Dunholme, Dunston, Fiskerton, Harmston, Heighington, Leadenham, Metheringham, Navenby, Nettleham, Nocton, North Carlton, Norton Disney, Potterhanworth, Reepham, Riseholme, Scampton Estate, Scampton Village, Scopwick, Scothern, South Carlton, Sudbrooke, Waddington, Waddington, Washingborough, Welbourn, Wellingore and Welton.

We can also post copies to you but the price per calendar increases to £8 to cover postage and packing.
The calendars feature photographs of British wildlife taken by members of the Lincoln Local Group and include birds, mammals, butterflies, etc. The calendar size is A4 opening to A3. It is wire bound and has plenty of space for you to add appointments etc to the dates page. Our calendars are printed by Ruddocks, Great Northern Terrace, Lincoln.
---
Greta Thunberg and the Climate Crisis
In this passionate call to action, 16-year-old climate activist Greta Thunberg explains why, in August 2018, she walked out of school and organized a strike to raise awareness of global warming, protesting outside the Swedish parliament and grabbing the world's attention. "The climate crisis has already been solved. We already have all the facts and solutions," Thunberg says. "All we have to do is to wake up and change." This talk was presented to a local audience at TEDxStockholm, an independent event. TED's editors chose to feature it for you. Watch Video
---
Holiday in Wales
In June 2019 the RSPB Lincoln Local Group spent a week in Wales, based at Beddgelert, Snowdonia we visited various RSPB nature reserves and managed to see a good variety of habitats, birds and other wildlife. You can see a small selection of photos taken during the week here.
---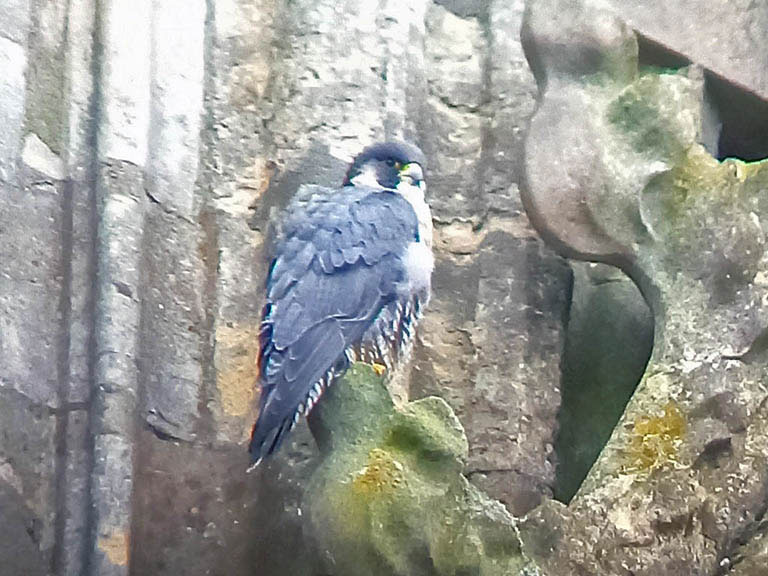 Lincoln Cathedral's peregrines
PEREGRINE WATCHPOINT at Lincoln Cathedral. Unfortunately this has been cancelled for 2020 but we hope to run the event again in 2021.

Sadly the 3 eggs laid this year have proven to be infertile so no young peregrines in 2020.

Photo: One of Lincoln Cathedral's peregrines by Yvonne Allen.
---
Bird-food sales
Due to the retirement of the existing bird food sales volunteers we are looking for someone to organise and sell bird-food at the monthly indoor meetings. You will need to have a suitable vermin-free storage area and be able to transport bags of bird food to the meetings. You will also need to re-order stock from our supplier as and when required and weigh and bag the bird-food ready for sale. If you are interested in helping please contact any committee member. Contact details are on the 'About Us' page.
---
---
Volunteering at Langford Lowfields
Do you have a passion for nature?
We're looking for volunteers to spend a few hours a week chatting to visitors here at our Langford Lowfields Nature Reserve. We are looking for volunteers for Thursday morning, Fridays, Saturdays and Sundays - half and full days available. You'll be based at our lovely beach hut and be able to get involved with pond dipping and events.
Click here for more information.
News from Lakenheath Fen - December 2019
Click here to read the latest news from Lakenheath Fen
Free coach travel for children on Sunday coach outings
You can book one free coach seat for a child under the age of 16 for each adult seat you book and pay for in advance - any admission charges will still apply, only the coach travel is free. We realise that it can be expensive for families to visit nature reserves so we are making this offer to encourage more people to bring children with them and encourage them to take an interest in birds, wildlife and our wonderful natural heritage.
To find out more about the RSPB click on the RSPB logo or visit www.rspb.org.uk