News
2022 Calendar and Photo Competition
You can submit a maximum of three digital photos for consideration by emailing low-resolution jpeg images to info@lincolnrspb.org.uk If the images are selected for a potential calendar we will require high-resolution files.
The photos must have been taken in the UK by you and the copyright of all your photos will remain with you. The subject must be British wildlife or British wildlife habitats. No wildlife or habitat should be harmed, put at risk or unduly disturbed in the process of taking the photographs and the photographer must abide by the Code of Conduct for Wildlife Photography.
The photos must be in landscape format and ideally should be 3508 x 2480 pixels. Please state in which month of the year the photos were taken. The committee will decide which photos will be used for the calendar and their decision is final, no correspondence regarding the results will be entered into.

The deadline for submitting photos is 31 July 2021. Any submitted after that date will not be considered.
---
Greta Thunberg and the Climate Crisis
In this passionate call to action, 16-year-old climate activist Greta Thunberg explains why, in August 2018, she walked out of school and organized a strike to raise awareness of global warming, protesting outside the Swedish parliament and grabbing the world's attention. "The climate crisis has already been solved. We already have all the facts and solutions," Thunberg says. "All we have to do is to wake up and change." This talk was presented to a local audience at TEDxStockholm, an independent event. TED's editors chose to feature it for you. Watch Video
---
Holiday in Wales
In June 2019 the RSPB Lincoln Local Group spent a week in Wales, based at Beddgelert, Snowdonia we visited various RSPB nature reserves and managed to see a good variety of habitats, birds and other wildlife. You can see a small selection of photos taken during the week here.
---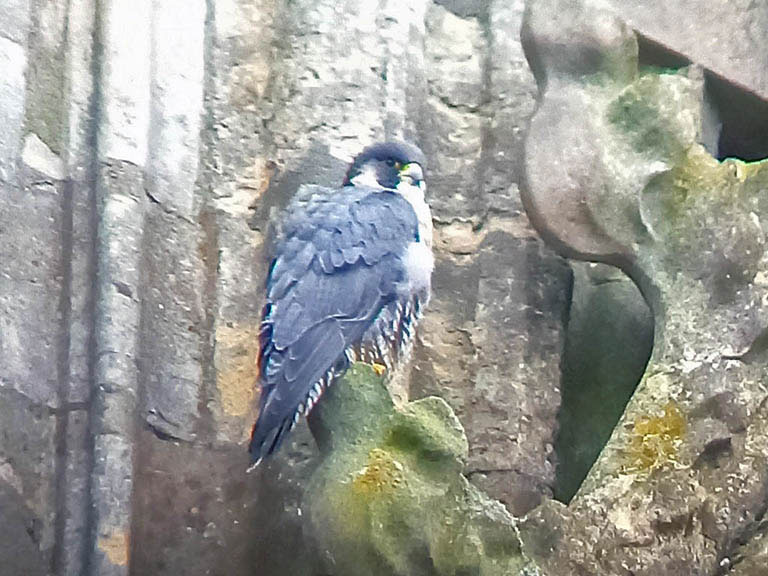 Lincoln Cathedral's peregrines
At the moment we do not know if the peregrine watchpoint will run this year due to the corona virus. This page will be updated as and when a decision is made. However, the live nestcam should be in operation, just type "Lincoln peregrines" into your search engine and you should be able to watch the birds on Youtube once they have started to lay eggs.

Photo: One of Lincoln Cathedral's peregrines by Yvonne Allen.
---
Bird-food sales
Due to the retirement of the existing bird food sales volunteers we are looking for someone to organise and sell bird-food at the monthly indoor meetings. You will need to have a suitable vermin-free storage area and be able to transport bags of bird food to the meetings. You will also need to re-order stock from our supplier as and when required and weigh and bag the bird-food ready for sale. If you are interested in helping please contact any committee member. Contact details are on the 'About Us' page.
---
---
Volunteering at Langford Lowfields
Do you have a passion for nature?
We're looking for volunteers to spend a few hours a week chatting to visitors here at our Langford Lowfields Nature Reserve. We are looking for volunteers for Thursday morning, Fridays, Saturdays and Sundays - half and full days available. You'll be based at our lovely beach hut and be able to get involved with pond dipping and events.
Click here for more information.
News from Lakenheath Fen - December 2019
Click here to read the latest news from Lakenheath Fen
Free coach travel for children on Sunday coach outings
You can book one free coach seat for a child under the age of 16 for each adult seat you book and pay for in advance - any admission charges will still apply, only the coach travel is free. We realise that it can be expensive for families to visit nature reserves so we are making this offer to encourage more people to bring children with them and encourage them to take an interest in birds, wildlife and our wonderful natural heritage.
To find out more about the RSPB click on the RSPB logo or visit www.rspb.org.uk